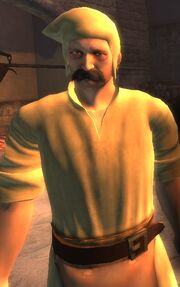 The Cook in The Silver Pitcher at the Praios Square in Ferdok is an irritable person, who will throw you out of the kitchen for looking around. He will buy rat's tails from you for 2 or 4 Thalers a piece.
Silver Pitcher (Ferdok, Praios Square)
Worth knowing
Edit
The cook is interested in buying Wolf rat's tails from you for 2T a piece. With a successful Haggle attempt (difficulty increase: 3) you can raise this to 4T a piece.
Forgrimm is not very happy when he sees that these rats tails are used for making soup.
Profession
Edit
Cook at the Silver Pitcher in Ferdok.
Community content is available under
CC-BY-SA
unless otherwise noted.