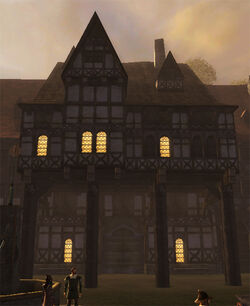 The Ducal City of Ferdok is a famous trading city in the Middenrealms with nearly 3000 inhabitants to the west of the capital city Gareth, south of Angbar Lake. It is one of the most ancient human settlements of Kosh. Ferdok sits at the confluence of the Rakula and the Great River. All the land from here to the snow-tipped peaks of the Anvil Mountains in the south is ruled by the Dwarven Duke Growin, Son of Gorbosh.
After terrible floods in 162 BF, the Great River changed its course, robbing Ferdok of its trading lifeline and diminishing its importance. Towards the end of the third century, the settlement was abandoned and refounded a few miles away next to the water.
Now the city in the County of Ferdok in the Principality of Kosh is again an important economic and political center at the heart of Middlerealm. Although Ferdok is no longer the capital of Kosh - it has lost that status to Angbar - it is still a vital link in a widely used commercial route and has remained economically significant for that reason. It is known as a gate to the west and affords speedy travelling to other parts of Aventuria.
Besides the humans, Dwarves make up a significant portion of the population and therefore many Dwarven goods are on sale here.
It is also home to the famous Ferdok pale ale brewery – a well-known and popular beer across the entire continent. The main thing that distinguishes true Ferdokers from other Middlerealmians is their boundless enthusiasm and love for beer. With a single sip of Pale Ale, many a Ferdoker can tell you whether it was brewed using the right ingredients and can even distinguish a Bornish brew from Sweetmeadow hop juice.

The "Ferdok Lancers" were also once stationed here by order of the Emperor to ensure the security of Middlerealm. The all-female military unit was annihilated at the terrible Battle of Warkhome, and no lancers are to be found in Ferdok to this day. The everyday life of the city is a colorful mixture of busy citizens, established aristocrats and rough-necked Anvil Dwarves. The city can boast of the hearty fare in its inns, wide and varied trading goods from far-off lands and exceptional Dwarfen metalwork.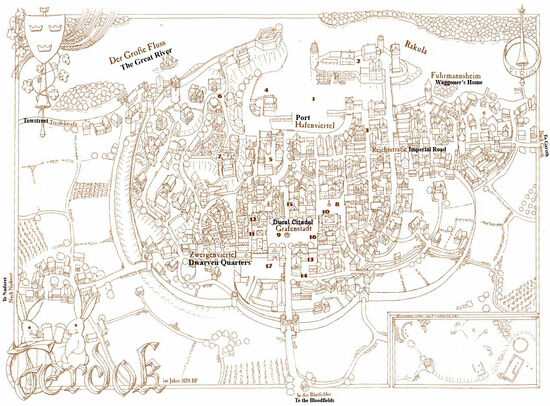 Ferdok is the center of activity in The Dark Eye: Drakensang. The city is divided into four explorable areas: Praios Square, Wagoner's Home, Ugdan Harbor and Ducal Citadel. In addition there are some areas that can not be explored, like the Dwarven Quarter.
When you arrive in Ferdok, you enter at Praios Square and you only have access to Wagoner's Home and Ugdan Harbor. Ducal Citadel becomes accessible after solving the murder mystery; the same applies to Ardo's Residence.
Community content is available under
CC-BY-SA
unless otherwise noted.