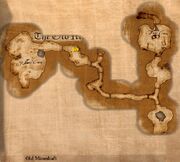 There is an Old Mineshaft near Berry Lake in Avestrue. In it lives the bear that Hunter Owlstone wants killed. Further exploration also reveals, that Archmage Rakorium got lost here and needs some assistance finding his way back out.
Visited for Quests
Edit
Relevant NPC
Edit
Possible Opponents
Edit
Connected Areas
Edit
Worth knowing
Edit
Community content is available under
CC-BY-SA
unless otherwise noted.